Pet Trainer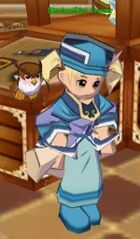 Location(s):
Towns
Pet Trainer is an NPC.
Description
When your pet becomes level 9 with 100% experience you must take it to a the pet NPC to evolve it. She will ask for items for evolving your pet. You must provide the exact items depending on which evolution that you're aiming for.
Please refer to each individual pet profile in order to see what items they require.
Seed Egg - Piya Egg - Bird Egg - Heaven Egg
Ad blocker interference detected!
Wikia is a free-to-use site that makes money from advertising. We have a modified experience for viewers using ad blockers

Wikia is not accessible if you've made further modifications. Remove the custom ad blocker rule(s) and the page will load as expected.