Lioner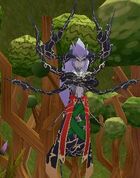 Location(s):
Lioner's Cave
Lioner is an NPC.
Description
He is part of The Trail of Heroes Quest. You will have to defeat him if you wish to obtain Duran's Signature. To reach him, you will have to talk to the Wagon Driver in Adel Monastery. He is also a part of important NPC in Future of Shiltz Quest
He is Lv 53 and has high dodge.
Ad blocker interference detected!
Wikia is a free-to-use site that makes money from advertising. We have a modified experience for viewers using ad blockers

Wikia is not accessible if you've made further modifications. Remove the custom ad blocker rule(s) and the page will load as expected.