Start NPC:

Yuyi - Lime

Requirements:

Quests Needed:
Repeatable:
Not Repeatable
Reward(s):

Exp: 8,000
Fame: 330




Previous Quest:
None
Next Quest:
None
  
  
---
Walkthrough
Talk to Yuyi to receive food.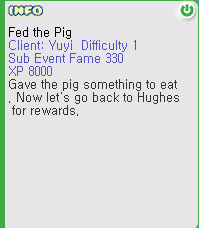 Go east and exit to the Outer Wall of Lime. Walk along the southern road, along the right side, just before a vegetable patch. There will be a Cute Pig standing just beside the right of the road (C6).

Ad blocker interference detected!
Wikia is a free-to-use site that makes money from advertising. We have a modified experience for viewers using ad blockers

Wikia is not accessible if you've made further modifications. Remove the custom ad blocker rule(s) and the page will load as expected.