Ad blocker interference detected!
Wikia is a free-to-use site that makes money from advertising. We have a modified experience for viewers using ad blockers

Wikia is not accessible if you've made further modifications. Remove the custom ad blocker rule(s) and the page will load as expected.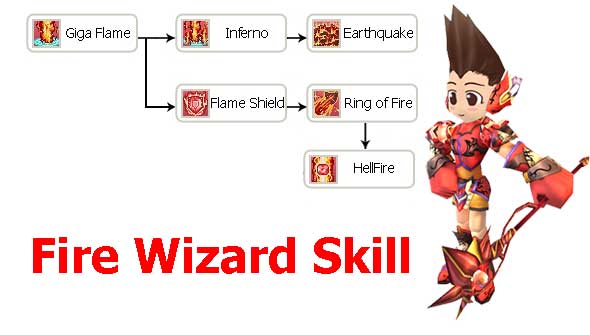 Fire Wizards are a special class of mage focusing on fire-elemental spells. Fire wizards have higher magic power than their ice wizard couunterparts, but they consume more AP and have longer casting times and cooldowns as a result. Fire wizards are ideal for mages who prefer to hit hard and are willing to sacrifice speed to get the damage they want.
Useful Links :
Fire Wizard Weapon
Fire Wizard Armor
Fire WIzard Skills
Giga Flame
Skill

Skill Limits

Skill Level

EP Required

Level Required

Damage

AP Cost

Giga Flame

Level Req.

150

1

5

150

1385%

200

Req. Skill

None

2

6

152

1481%

210

Max Level

10

3

5

154

1585%

220

Description

4

5

156

1696%

230

Increases the damage onto your image by combining fire energy

5

5

160

1815%

240

6

5

162

1942%

250

7

5

164

2078%

260

8

5

166

2224%

270

9

5

166

2379%

280

10

5

168

2546%

300
Inferno
Skill

Skill Limits

Skill Level

EP Required

Level Required

Damage

AP Cost

Level Req

160

1

6

160

950%

230

Req. Skill

Giga Flame lv.1

2

6

162

1074%

250

Max Level

5

3

6

164

1213%

270

Description

4

6

166

1371%

290

Controlling fire around the User, and damage monster nearby


5

6

168

1549%

310
Earthquake
Skill
Skill Limits
Skill Level
EP Required
Level Required
Damage
AP Cost


Earthquake

Level Req.
170
1
5
170
1050%
240
Req. Skill
Inferno Lv1
2
5
172
1097%
260
Max Level
10
3
5
174
1146%
270
Description
4
5
176
1198%
280
Controls the magma beneath the ground to call forth a powerful earthquake that damages and immobilizes multiple enemies.
5
5
178
1252%
290
6
5
180
1308%
310
7
5
182
1367%
320
8
5
184
1428%
330
9
5
186
1493%
340
10
5
188
1560%
360
Dancing Flame
Skill
Skill Limits
Skill Level
EP Required
Level Required
Magic Power
AP Cost



Level Req.
190
1
5
190
2050%
310
Req. Skill
Earthquake Lv1
2
5
195
2173%
320
Max Level
5
3
5
200
2303%
330
Description
4
5
205
2441%
340
Give damage to the enemy with small fireballs blowing around within specific range and gives strong dot damage
5
5
210
2588%
360
Flame Shield
Skill
Skill Limits
Skill Level
EP Required
Level Required
Defense Increase
AP Cost
Evasion Rate

Flame Shield
Level Req.
160
1
6
160
215
200
40%
Req. Skill
Giga Flame lv 1
2
6
162
275
220
52%
Max Level
5
3
6
164
395
230
76%
Description
4
6
166
575
240
112%
Concentrates the power of fire from within to substantially increase the user's defense for a short time.
5
6
168
815
260
160%
Ring of Fire
Skill
Skill Limits
Skill Level
EP Required
Level Required
Damaged Reflected
AP Cost

Ring of Fire
Level Req.
170
1
6
170
600
220
Req. Skill
Flame Shield Lv1
2
6
172
950
230
Max Level
5
3
6
174
1300
240
Description
4
6
176
1650
260
For a set amount of time, a portion of damage received is reflected back to the attacker. The effect lasts for 300 seconds regardless of skill rank.
5
6
178
2000
270
Hellfire
Skill
Skill Limits
Skill Level
EP Required
Level Required
Increased Magic Power
AP Cost

Hellfire
Level Req.
180
1
6
180
+80
240
Req. Skill
Ring of Fire Lv1
2
6
182
+95
260
Max Level
5
3
6
184
+110
270
Description
4
6
186
+130
280
Absorbs the power of fire, granting the user additional strength in magic.
5
6
188
+150
290