Ad blocker interference detected!
Wikia is a free-to-use site that makes money from advertising. We have a modified experience for viewers using ad blockers

Wikia is not accessible if you've made further modifications. Remove the custom ad blocker rule(s) and the page will load as expected.
9 Elements
There are 9 elements in the world of Seal Online, namely:

Steel
Wood
Earth
Water
Fire
Light
Darkness
Physical
Magical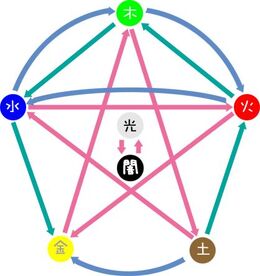 The table shows how much damage is dealt to the enemy based on what element weapon the player uses, and the monster's element.
Note: 100% is standard damage.
Regardless of what element you use in a weapon, your attacks will still be reduced towards "Physical" type monsters unless you use magic.
Top elements are the monster's elements. Left side is your weapon element.
Elements are counted as magical attack.
A monster with elemental type, that attacked using same elemental weapon would deal damage 50%.
| | Fire | Steel | Wood | Earth | Water | Darkness | Light | Physical | Magical |
| --- | --- | --- | --- | --- | --- | --- | --- | --- | --- |
| Fire | 50% | 150% | 125% | 75% | 25% | 100% | 100% | 200% | 100% |
| Steel | 25% | 50% | 150% | 125% | 75% | 100% | 100% | 200% | 100% |
| Wood | 75% | 25% | 50% | 150% | 125% | 100% | 100% | 200% | 100% |
| Earth | 125% | 75% | 25% | 50% | 150% | 100% | 100% | 200% | 100% |
| Water | 150% | 125% | 75% | 25% | 50% | 100% | 100% | 200% | 100% |
| Darkness | 100% | 100% | 100% | 100% | 100% | 50% | 150% | 200% | 100% |
| Light | 100% | 100% | 100% | 100% | 100% | 150% | 50% | 200% | 100% |
| Physical | 100% | 100% | 100% | 100% | 100% | 100% | 100% | 10% | 200% |
| Magical | 100% | 100% | 100% | 100% | 100% | 100% | 100% | 200% | 10% |