Cruise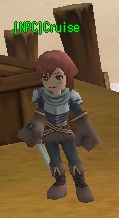 Location(s):
West of Red Soil A2
Cruise is an NPC.
Description
This is important NPC in Future of Shiltz Quest.
Judging by the intelligence of the other knights, Cruise may just have recently assigned by Duran as his Fourth Knight.
Ad blocker interference detected!
Wikia is a free-to-use site that makes money from advertising. We have a modified experience for viewers using ad blockers

Wikia is not accessible if you've made further modifications. Remove the custom ad blocker rule(s) and the page will load as expected.