Chat Room Guide[1]
Chatrooms in Seal Online are a good way to chat in game with friends even if you're not in a party or guild.
Max number of people allowed in a chatroom is 32.
Creator of chatroom can choose
How to enter Chatroom
1. In game, press Alt+C or click the "Chat" icon in the menu bar to bring up the chat room window.

2. From the chat room window, click on "Level". From there, double click on "SealBox".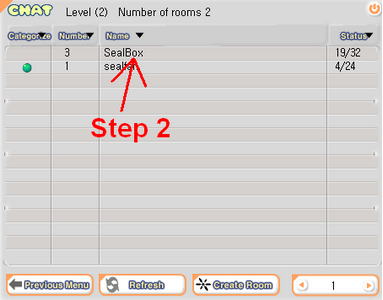 How to stay in Chatroom and do other things in game
From there, you can stay within the map designated for that channel, or click "To Game" to continue chatting while playing the game.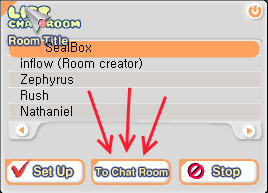 How to rejoin Chatroom
To rejoin the chat room, click "To Chat Room" or hit Alt+C.
To exit out of the chat room completely, click "Stop".
How to chat inside the Chatroom
If you leave the chat message mode, double click "Chat" to the left of the message box to get back or just add a "$" before your message.
Chatroom Maps
Map: Beach
Capacity: 12 Players

Map: Church
Capacity: 12 Players

Map: Camping Grounds
Capacity: 24 Players

Map: Town
Capacity: 24 Players

Map: Arena
Capacity: 32 Players

Sources
Ad blocker interference detected!
Wikia is a free-to-use site that makes money from advertising. We have a modified experience for viewers using ad blockers

Wikia is not accessible if you've made further modifications. Remove the custom ad blocker rule(s) and the page will load as expected.